Does your company need safety footwear? Let Industrial Shoe Company bring our store to you! Our "Shoemobiles" are mobile stores that offer your employees all the benefits of our retail locations that come to your work place. The interior of our Shoemobiles offer customers ample room to view and select a product, interact with our safety footwear professionals, and space to sit down and try on their selection to ensure a proper and comfortable fit with their next pair of Industrial Shoe safety footwear. With multiple sized vehicles that stock up to 100 styles and 2500 plus pairs of safety footwear, Industrial Shoe has the ability to meet any of your safety footwear needs. Please fill out the form (link to form) below to request an Industrial Shoemobile visit for your site.
Areas Covered by Shoemobile
Industrial Shoe's Shoemobiles cover the Southern Half of California as far north as San Luis Obispo, Fresno and Inyo County lines, Southern Nevada and all of Arizona. Not sure if Industrial Shoe services your area? Send a request and if we do not, we can put you in contact with one of our Hytest Network partners who does!
Delivering What Your Require
Does your industry require specific safety footwear features? Industrial Shoe has the ability to stock the particular inventory and selection you need to make sure all of your safety footwear requirements are met. Our Shoemobiles give us the ability to handle all fitting, sales and exchanges while on site to ensure an efficient visit for your company.
Our bilingual Shoemobile drivers and salesmen will professionally fit all of your employees and ensure that they select the appropriate footwear for the job, and are properly fitted to ensure maximum comfort and safety. Our safety footwear professional will make sure all of your employees understand the importance of a proper fit and the need for the styles and feature requirements for your company and industry. We pride ourselves on educating while we service your safety footwear needs. Our customer service is unsurpassed!
Whether it is safety toe, static dissipating, waterproof, slip resistance, uniform or whatever the need, Industrial Shoe is there to provide you the proper shoe for your job.
Shoemobile and Store Visits vs. Internet Purchasing
Purchasing safety footwear should be taken seriously. It is a very important decision when it comes to an employee's safety and comfort at work. Improperly fitting footwear contributes heavily to common causes of foot pain and can lead to severe injuries and lost time. Here are some reasons to choose Industrial Shoe Company's Shoemobile or store visits over internet purchasing:
A personal on-site service brought directly to you and your associates
Professional measuring, sizing and fitting to each associate
Selection of proper footwear that provides accurate fit and required safety features for specific working environments
Over 95% on-site fill rate vs. special orders with each visit
90% fill rate for in-stock special orders shipped within 24 hours
Only sell the styles approved by your company and program
One sale, one invoice, one payment for multiple purchases
Ease of scheduling to meet your needs: weekly, bi-weekly, monthly, quarterly, semi-annually or annually, reducing employee down time
No freight, delivery or service charges
8 Strategically located retail centers to supplement Shoemobile visits
Safety Footwear Programs
Interested in starting or reviewing your safety footwear program? Industrial Shoe's safety footwear professionals are ready to work with you and your company to create a cost effective and efficient safety footwear program custom tailored for your company. Once your program is ready to go, our Shoemobile will be there to provide what you require.
To request one of Industrial Shoe Company's Shoemobiles to visit your site or have an Industrial Shoe expert review your program, please fill out the service request form or call us at (888) 746-3967 today!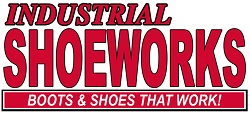 "Family owned since 1952, our goal is to provide innovative, high quality occupational footwear, world class service and help our customers build and maintain comprehensive occupational footwear programs."
As the largest occupational safety footwear distributor, on the west coast, serving California, Arizona and Nevada since 1952, and one of the founding members of the Hytest Safety Footwear Network, Industrial Shoe Company exemplifies the ideals of working with exceptional companies devoted to providing their employees with top quality safety footwear.
With ten retail locations in 3 states and seven 50ft shoe stores on wheels that carry up to 2,500 pairs of safety shoes, "We Provide Foot Protection by the Truck Load." As a locally owned and operated business for 3 generations, Industrial Shoe Company is committed to staying #1 in the industry through hard work and unparalleled commitment to our customers.